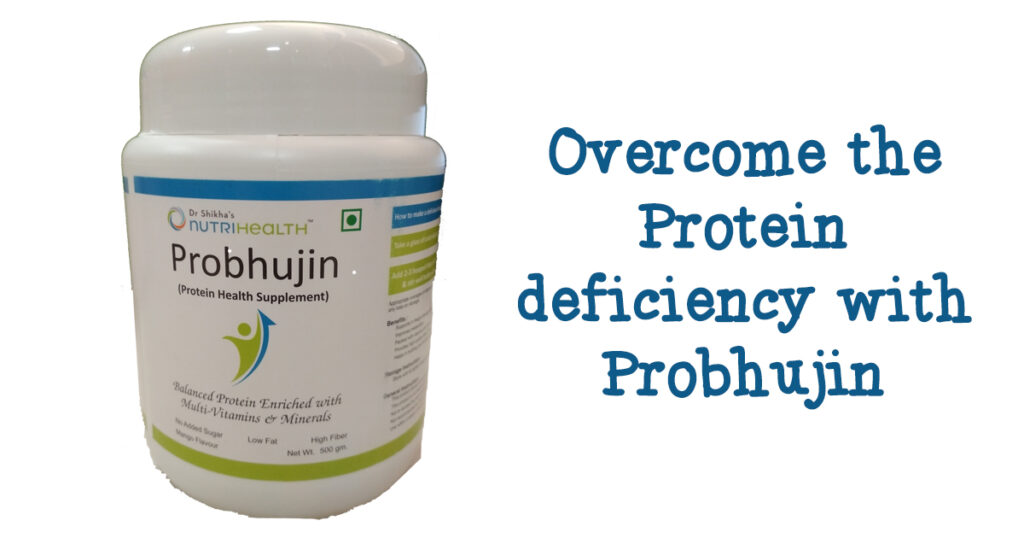 Proteins work as the building block for the body but in cases when we do not consume an adequate amount of the carbohydrate then the sparing action of protein overloads the building action which results in the disturbed weight and lower energy levels.
Indian Diet and Proteins
The Indian diet that we eat daily has different sources of proteins including vegetarian – dal, pulses, soybeans, legumes, non-vegetarian protein – egg, chicken, fish, red meat. For the vegetarian, it is not always possible to meet the daily protein needs.
Probhijin – Dr Shikha's NutriHealth's Protein Supplement
To overcome this problem after long research and development by the team of Dr Shikha Sharma, a product by the name of Probhujin is developed which is made of Soy and Whey proteins along with a balanced composition of vitamins and minerals.
Dosage
It varies as per the needs which can be discussed with our expert Ayurvedic Doctors and Nutritionist.
Why Probhujin?
Besides the regular use of Probhujin, it can be used in special conditions like Pregnancy, lactation, in addition, the gym goers can easily add it to their routine with the portion of the milk.
When the supplements are discussed it is not always the weight gain, but also the weight loss. It is equally important, in weight loss as well. Since deficiency of protein also makes it tough to lose weight, so for weight management Probhujin can be added as a meal replacement option working on the motto -"Reducing by Nourishing".
You can order Probhujin from here.
For more information about the product, WhatsApp us at +91 8447839546.