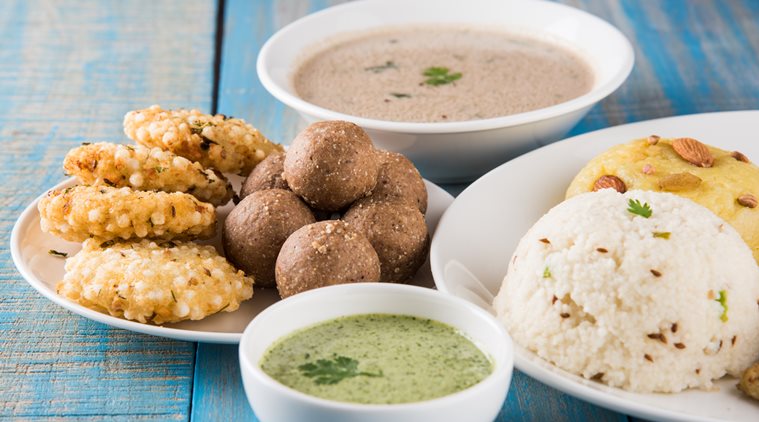 Navratri is going on and it is a celebration of shakti the Goddess Durga. These nine days are a devotion to the Goddess through fast and worship. To do it with more purity people fast during this time. It is quite difficult and a matter of concern that what to eat and what to avoid in the diet during these days. Lots of people fast during this time to show their love and devotion to Goddess Durga. On this religious fast, only a few food items are allowed. Fast food should be completely avoided and sattvic food that means no non-vegetarian preparation are given in the diet. If you are planning to fast the entire day, it is suggested to do so in a healthy manner. It is advised to have fresh fruits, vegetables, yoghurt, milk and its products and healthy beverages instead of heavy and dense carbohydrate-rich snacks such as potato, sago, and deep fried or sweets.
The foods that can be included in the diet are as follows:
Kuttu Atta (Buckwheat Flour)
Kuttu or buckwheat is one of the best fibrous food and detoxifier for the body. It can be included in the diet. The fibre which is present in it helps to keep the hunger pangs controlled. It is also a good source of protein, vitamin B-complex, minerals like iron, zinc, manganese, copper, and magnesium. It also contains the fatty acid which reduces the risk of diabetes by decreasing the glucose, controlling blood pressure and cholesterol.
Sabudana (Sago/Tapioca Pearls)
Sabudana is one of the greatest sources of carbohydrates and gives a great amount of energy to the individual. During the fast, it can be very beneficial because it has a cooling effect and it can be digested easily. It can be included in the diet through various processes such as it can be mixed up with other ingredients such as milk to make kheer, khichdi, payasam.
Samak Chawal (Barnyard Millet)
It can be used in place of rice because the tastes are almost similar. It is the richest source of calories, fibres, vitamin B complex and minerals like iron and magnesium. It is a good source of phytochemicals which helps in lowering the cholesterol.
Makhanas (Fox nuts)
It is one of the best food during Navratri. It is a good source of antioxidants which help as an antiaging agent by preventing from wrinkles and premature aging. It is also high in fibre which helps in avoiding constipation. It is also low in saturated fat but high in potassium which helps to control the high blood pressure, diabetes, and insomnia. It is also helpful for the patients suffering from arthritis to prevent from the joint pain.
Dry Fruits
They are a good source of protein and energy and mostly used in sweet dishes.
Fruits and Vegetables
They are rich in vitamins, minerals, and antioxidants. They are also rich in fibre.
Milk and Dairy products
Milk and dairy are the richest sources of protein and calcium. They can be included in the diet in good proportions.
Herbs and Spices
Salt is not allowed in Navratri. However, spices such as cloves, cinnamon, green cardamom, sendha namak (rock salt) are allowed during this time.