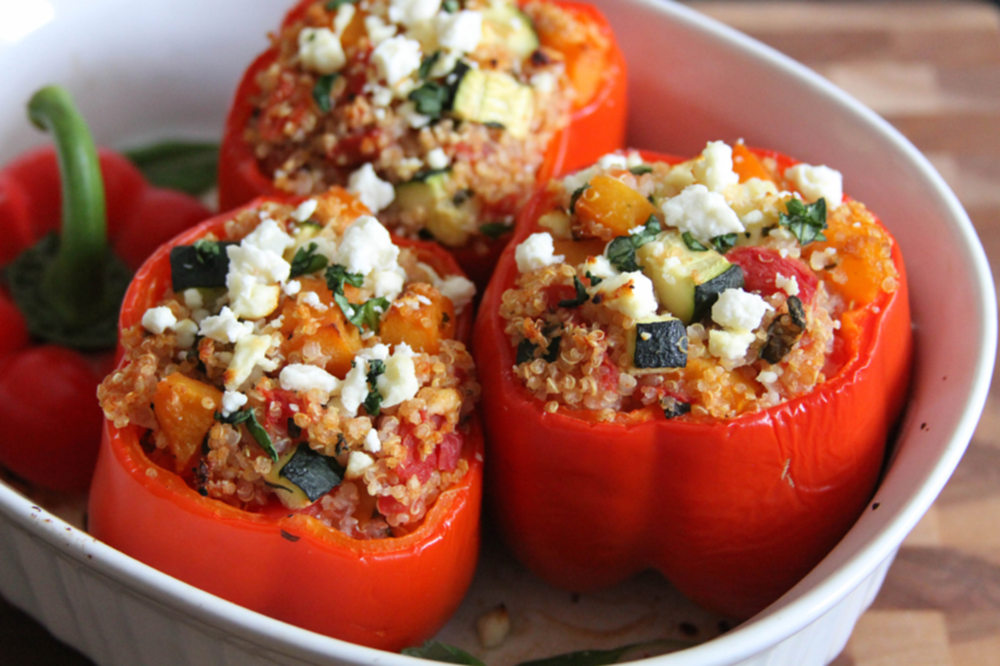 Ingredients for Stuffed Roasted Red Peppers
6 large red bell peppers

1 tablespoon olive oil

4 garlic cloves, minced

6 ounces fresh spinach

1 tablespoon fresh lemon juice

1 teaspoon salt

3/4 cup uncooked couscous (about 2 cups cooked)

1/2 cup crumbled feta cheese
Method
Roast the bell peppers on a gas stove's open flame, turning them with tongs, until the skins are blackened, for about 2-3 minutes; or roast them on a rack under the broiler 2 inches from the heat, turning them every 5 minutes, for about 15 minutes.

Transfer peppers to a bowl, cover with plastic wrap and let them cool.

When cool enough to handle, peel peppers starting at the stem end, carefully cut off the tops with a paring knife, and rinse out any seeds. Set aside.

Lightly coat a sauté pan with olive oil; place over medium heat.

Sauté garlic until it begins to turn golden, about 1 minute. Add spinach; cook over medium heat until it wilts, about 2 minutes.

Remove pan from heat. Stir in lemon juice and salt; place spinach in a bowl.

Preheat oven to 350°.

In a small pot, cook couscous according to package directions (about 5 minutes).

Using a spatula, add the couscous and the feta cheese to the wilted spinach, and mix well.

Line a baking sheet with aluminium foil. Generously stuff all the peppers with couscous-spinach stuffing, and place on a baking sheet.

Bake on the centre rack for about 8 minutes.

Serve immediately.